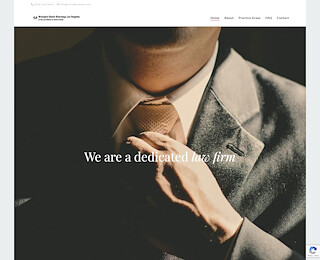 When a loved one dies at the hands of someone else's malice or negligence, no amount of 'I'm sorry's' will suffice. No amount of money will compensate for your loss. At the same time, survivors of wrongful death suits often become passionate about shedding light on the problem that cost their loved one his or her life - they want to do all that they can to make sure it never happens to anyone else. That's when they talk to a wrongful death attorney in Los Angeles.
Should I Hire a Wrongful Death Lawyer in Los Angeles?
While it is true that no amount of money will ever bring your loved one back, hitting a person or a company in the pocket is often the only way to make sure they learn their lesson - that whatever they did; it better not be done again lest anyone else have to needless lose their lives! As experienced attorneys of wrongful death claims, Wrongful Death Attorneys of Los Angeles routinely work with people who have lost loved ones senselessly. Sadly, most cases could have easily been prevented.
Any time someone loses their life, it's a tragedy. This is especially true when people die unnecessarily. But working with the survivors of wrongful deaths in Los Angeles; we know that the survivors experience just as much grief as the person who died, if not more! Surviving spouses, children, and relatives are often left with the debts, burdens, and responsibilities of the deceased in addition to their deep psychological and emotional scars. Our job is to ensure that justice is met for all people in Los Angeles who lose a loved one due to wrongful death.
How Do I Know if I Have a Wrongful Death Claim?
Wrongful death claims can occur under a wide range of circumstances. One public example of a wrongful death claim would be OJ Simpson. OJ Simpson was found not guilty of murder in his criminal trial, but he was later charged with a wrongful death claim by the families of the victims, and they won a monetary judgment. Of course, this is just one example of wrongful death claims, and the circumstances of the OJ Simpson case are certainly not applicable to all wrongful death claims.
Doctors guilty of malpractice or negligence can also be charged with wrongful death suits. Further, both individuals and organizations can be charged with wrongful death. At fault auto accident drivers, bartenders who served alcohol to someone who was already impaired, and even prison guards who failed to get help for a prisoner fast enough are all examples of instances when wrongful death claims may be applied. Sticking with the example of the doctor, both the doctor and the hospital who employs him or her may be held liable for wrongful death.
Who Can File a Wrongful Death Claim?
Typically, spouses, parents, and children are eligible to initiate a wrongful death suit on behalf of the deceased. However, it is usually the personal representative of the decedent's estate who initiates the wrongful death proceedings. Contact the Wrongful Death Attorneys of Los Angeles to learn more.
Wrongful Death Attorney Los Angeles
Related Post
Wrongful Death Attorneys in Los Angeles is a law firm that will defend you in cases where a loved one has wrongfully died. We understand the frustration, anger, sadness, and so many other feelings that come when a loved one has passed, but even more so when the death is a senseless, wrongful one.
We want to help you find justice for your loved one and help others too by spreading the word about companies who are negligent so that no other person has to go through their loved one dying because of irresponsibility. If you know of wrongful death in Los Angeles and need help bringing your loved one justice, we are more than happy to help.
What are the areas in which you practice?
Our practice areas are defective products, work-related deaths, negligence, and medical malpractice.
In cases of a wrongful death because of a defective product, the case can be created if the products did not include a warning label, or if the warning label was not designed as it should be. There is also the possibility of an error happening in the manufacturing process that made the product dangerous to use, and the manufactures did not detect it and still went on sale. The last possibility is if the design of the product is harmful and puts the user at risk.
Work-related deaths are when a person dies when they are at work. It could be for many reasons, like being exposed to dangerous substances, accidents when operating machinery, mechanical failures, and many others. If you are unsure if the death of your loved one qualifies, please contact us, and we will be happy to help and answer any questions.
If you are attempting to file a claim for negligence, this means that your loved one did not correctly receive the care they needed and deserved. The parent, guardian, or person in charge and was irresponsible and caused death to occur.
In cases of medical malpractice, you may be able to file a claim if the doctor misdiagnosed the patient, made errors, used the incorrect technique, was careless, and many others.
Who qualifies to file a claim?
The person who is able to file a claim for their loved one passing away is any person who is closely related to the person who has passed away, anyone who is dependent on the deceased for financial support, or anyone who was related to the deceased by marriage, either legally or non-legally.
Please remember that there are time limits to when you can file a claim; in many cases, you must file within two years of the death in California. It is best if you contact us as soon as possible for a free consultation so we can get started on your case. If you wait too long, it can be harder to find evidence to prove your case. Please take action immediately so that you can receive the compensation you deserve.
Our team is fully prepared to help you through the process. We will defend you every step of the way.
When a family member dies it can be one of the most difficult times in your life. When the death was caused by someone else's negligence it makes it even harder. You want to make sure that the person who is responsible for your loved one's death is brought to justice. You can get the closure you need with help from an experienced wrongful death lawyer in Los Angeles.
What is a Wrongful Death Lawsuit?
A wrongful death lawsuit is a type of personal injury lawsuit. It is different than personal injury in that the victim suffered a fatal injury. A wrongful death lawsuit is a claim that is made against the party who is responsible for the victim's death due to negligence or an intentional act. A wrongful death lawyer in Los Angeles will assist with legal matter to get compensation for the family of the victim.
A wrongful death lawsuit is a civil case rather than a criminal case. It is generally brought by the victim's family following a vehicle accident or other type of accident in which the other party was negligent. The case is separate from any criminal proceedings which may or may not have been made against the responsible party.
Who Can File a Wrongful Death Lawsuit?
A wrongful death lawsuit can be filed by a close family member such as a spouse, child, sibling, parent, grandparent or stepchildren, for example. The law allows specific parties to file a claim depending on how close they are to the decedent. A wrongful death lawyer in Los Angeles will assist you with a claim and advise you as to how to go about getting compensation for your loved one's death.
You may be entitled to compensation for financial losses as well as emotional hardship. Financial losses may include such things as funeral and burial costs, loss of future wages and money that the decedent would have provided to the family. Emotional loss might include money for loss of companionship, loss of emotional support for children and grief and mental pain.
Remember that you and your loved ones are entitled to compensation for the negligent death of your family member. A skilled wrongful death lawyer in Los Angeles will handle all of the details of the case so you won't need to worry or stress over the situation. If you are worried about your financial well-being following the death of your loved one you may be able to get the money that you deserve.
The law limits the time to file a claim so it is imperative that you contact a wrongful death lawyer in Los Angeles as soon as possible. At Savin & Bursk we have been successfully getting justice in wrongful death cases for years. Wrongful death is one of our practice areas and we work hard to get justice for the death of your loved one. While there is nothing that can be done to change the circumstances, there is something you can do to resolve this terrible situation. Contact us today to schedule a free consultation.
We welcome your comments!